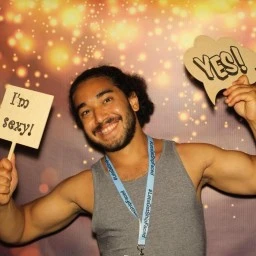 Afro
Guest Experience With Krakow Animals Pub Crawl
---
My First Day in Krakow In Lets Rock Party Hostel With Krakow Animals Crawl
To sum up my time as a guest and staying at the Lets Rock Party Hostel in two words would be fucking crazy.
First of all, as soon as I got the hostel I was made to feel at home with a welcome shot and questions about where I'm from and why Krakow. Also, it wasn't just the fake rehearsed small talk you get a lot of places, you could tell they were genuinely interested, and that they want you to party hard with them at the pub crawl.
Also being a solo traveler, you already know your company is going to be whoever you meet at the hostel. Here though not only will you meet rad people from every corner of the globe, but the staff will be quick to invite you to a pub (usually Bania Luka) or whatever other random place they meander off to. Just after 10 minutes of chatting I was invited to Bania Luka to day drink.
However, a word of caution. When I say these guys can drink a fuck ton it's not hyperbole. If you're day drinking with staff and still are keen on doing the pub crawl, then pace yourself and know your limits, because they will throw it back, and not even be phased 9 times out of 10. I hadn't drunk a large volume of alcohol for some time; so, to say the least I was not in rare form.
Luckily, I was able to compose myself and get back to the hostel but passed out for several hours due to my little adventure to Bania Luka. After being dead from drinking with the pros out of the blue I hear "… SHOT O'CLOCK MOTHER FUCKERS." It was staff passing out more shots before the pub crawl power hour and these guys were passing them left and right like they were Oprah saying, "one for you and one for you."
My half-conscious half-drunk ass was awakened from my stupor to have a shot poured down my throat and being told to rally for the night. My first coherent thought was this night was going to be a banger because (usually) Friday and Saturday are the craziest nights of the week. Fortunately for me it was a Friday, but unfortunately for my liver it was, as I said, Friday.
You know it's time for power hour because as soon as you get downstairs the people from our sister hostel (Greg and Toms) come pouring in with the exact same objective: to get obliterated and have a hell of a time. All in all, there were about 80 or so people there playing games like never have I ever, flip cup, and beer pong. The thing is for the entire hour drinks are for free; so, you can indulge your alcoholic tendencies to your heart's desire and believe me when I say that I most definitely did.
Within like 10 minutes I found myself chatting up a cute German girl and it turned out we both lived super close by in Berlin literally several streets down. One of the pub crawl guides seeing that we were vibing started wing manning on the spot and of course they were clutch. No fucks given we started making out next to the flip cup game and out of the side of my eye the guide nodded, and that charming bastard knew exactly what he was doing.
After an hour of games, utter inebriation, and making out with German girl we set off to our first bar of the night which was Lajt (pronounced Light). The thing to do at Lajt is to take a selfie in the bathtub but unfortunately for me there were so many people jumping into the damn thing that I didn't have a chance to. I mean… to be fair…I also was still making out with German girl and having another free shot poured down my throat by the pub crawl guides.
Our second club was La Bodega and in all honesty it's my favorite club hands down in Krakow. True to its name it is a Latin dance club and most of music they play is that kind of genre but of course not exclusively. I found the staff there is the most chill of all of the clubs and oh my fucking god when I say it was packed with hot girls it doesn't do it justice. It was a total vibe and after having that second free shot poured down my throat, German girl and I cut the rug and danced into a sweaty mess and yes, we both knew it was time to make an "Irish Exit."
Normally on a Friday you will go to 5 clubs and get a free shot and VIP entry into each one. However, for me the adventure was cut short because German girl and I knew what was up and went back to the hostel. Not wasting any time, we shagged in the bathroom, then shagged in Room 1, and for good measure we shagged in the shower too. I'm pretty sure there were several other people shagging in the room as well and God knows where else in the hostel.
To put it bluntly, the hostel management and staff does not give a single solitude fuck as long as you follow a few simple rules: it stays consensual, you're not being an obnoxious dumbass, and you're not breaking shit. Otherwise, it's fair game and we want our guests to do their thing. Fair warning for hostel goers and potential guests, if you want peace and quiet, then this is NOT the place for you, but if you want the time of your fucking life and a crazy experience, then come see us and we will show a great time. I promise. I know I did.